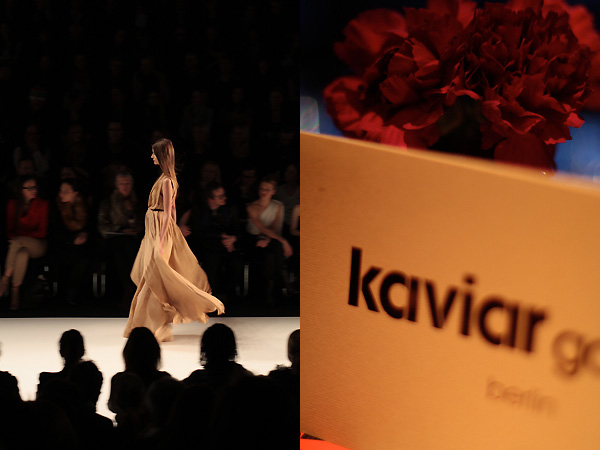 The Kaviar Gauche show was one of my highlights during Berlin Fashion Week. And not just because I overheard the most entertaining conversation there. But more on that later. 
I love that their signature silhouette is very soft, but never girly. The flared trousers looked beautiful coming down the runway (flares are everywhere at the moment. Could this finally be the end of skinny? If so, I'll volunteer to spearhead the movement for wide-legged trousers…). They used lace in a way that doesn't remind you of your own grandmother. And leather in a way that doesn't remind you of a Scorpions fan. My only complaint would be that the only colours were black, white and beige – but I'm not complaining, because I think black, white and beige in the cuts and combinations shown here are lovely. I've fallen hopelessly in love with the beige coat in the picture below (I wasn't quick enough to snap it from the front. But I like it even from the back). It's on my "if I win the lottery" shopping list.
So, yes, I pretty much liked everything about their autumn/winter collection. And then I met one of the designers, Johanna Kühl, at a party during the Berlinale. She was wearing a combination of wide-legged trousers (yes!) and jacket that looked like a glamorous men's pyjama, which, naturally, was vintage and from Paris. Showing up to a party in nightwear? Love them even more now.