It might not be the best idea to change the format of a new series for the second ever episode. But! When a reader asked me after the first installment of 1 piece, 3 looks (I can't find the original comment – apologies!), if I could feature three outfits for the playground that did not involve the usual jeans-and-a-t-shirt combination, I decided to make an exception and change to script to 3 pieces, 3 looks for this post. All outfits had to meet these challenges: 1. They shouldn't give me Groundhog Day feelings. 2. You should be able to play in the sand with them, climb monkey bars when your kid decides (s)he's not that brave after all and be compatible with bike/public transport journeys. 3. You should also be able to wear it to the office beforehand.
Also featured are shoes and sandals that you can easily slip in and out of, as well as bags that will hold trucks, buckets and shovels.
LOOK #1
the boiler suit
Boiler suit, jumpsuit, overall – call it what you will, it's just indelibly cool. A favourite of fighter pilots, auto mechanics and, yes, Stella McCartney. If I could only wear one piece of clothing for the rest of my life, it might be this. I own overalls in all manner of styles and luckily there's a ton of them in the shops right now. You might think they're a little impractical. However, the time you lose by the Houdini act of half undressing every time you use the loo is saved in the morning, as it takes three seconds to get dressed. No deliberations, no crises, no hassle. Plus, you'll fit right in at the sandbox among all those kids in their playsuits.
Overall from ARKET
Crochet bag from ARKET
Sandals from ATP ATELIER
Sunglasses from VIU x CLOSED
__________________
LOOK #2
the pleated skirt
If you really want to make me laugh, ask me when I last ironed. The pleated skirt isso likable to me because the creases are there on purpose. It always keeps its shape and looks like you have it together even if, like me, you're lugging around a variety of canvas bags with dried up baby wipes and loose pretzles on most days. It may just be personal preference, but I also find (midi)-skirts less fussy than dresses for sitting around in sandboxes and on park lawns.
Pleated skirt from FILIPPA K (old)
Pullover from COS (old)
Bucket bag from CLOSED (old; currently available in Khaki among a few other colours)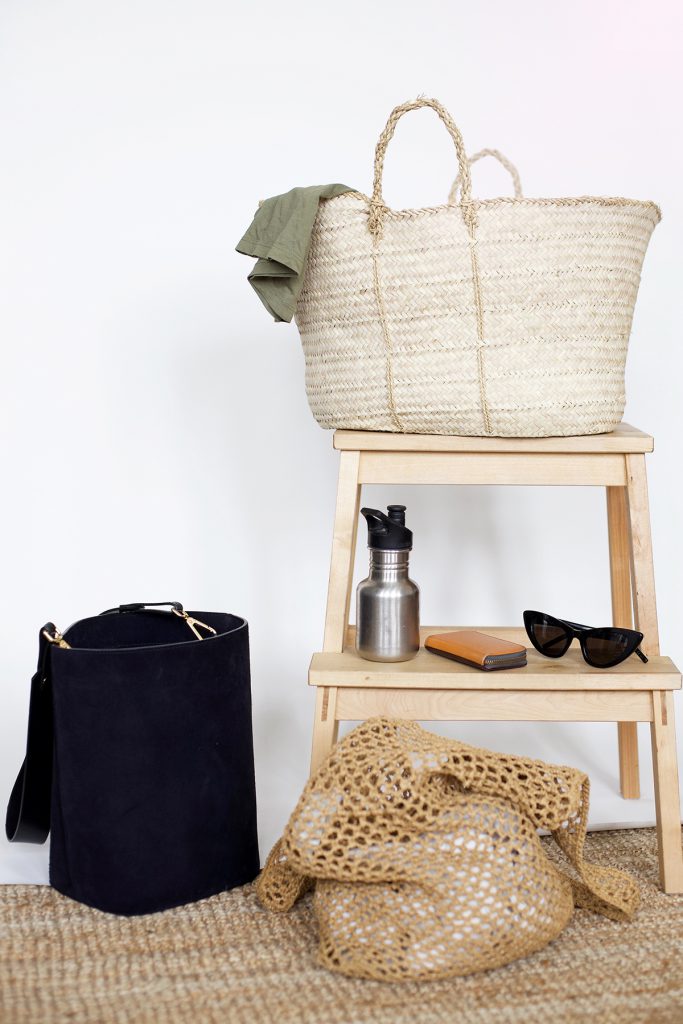 __________________
LOOK #3
the shorts
I promised that all of these looks would work for the office as well. I concede however that not everyboy can turn up at work in a pair of tuxedo-striped short jogging pants. So I've found a few choices that are a bit more chic (see below) . I have owned these shorts for years and I wear them to the home office and the playground, to bars and the supermarket, on train journeys and at the beach. They are preposterously comfortable and yet quite smart (the "smart jogger" is truly the best friend of every home office worker). If anyone at Sandro is reading this: Please re-issue this style. I'm terrified of the day these shorts will finally fall apart.
Shorts from SANDRO (old)
T-Shirt from ARKET
Bomber jacket from COS (old)
Sunglasses from RAY-BAN
This article contains the names of brands and products and therefore has to be lawfully labeled as ADVERTISEMENT. It also features affiliate links, which means that if you make a purchase through one of the links, I will be receiving a small percentage of the sale. All of the products have been chosen personally and independently by me. The pieces above were also all paid for by me, with three exceptions: the sunglasses from Viu x Closed, the crochet bag from Arket and the bucket bag from Closed were PR gifts.
SHOP THE LOOK