On our last day in Vennebjörke, our host said to us that, yes, it's a lot of work looking after an over 400 year old house and taking care of their own holiday home as well. "But this place is just good for the heart."
This place where the scent of wild roses in the garden almost makes you feel faint. Where you'll risk every mosquito bite just to stay down by the lake with Arlo for just five minutes longer, alright 10, okay 15 minutes just to see which stone will make the biggest "spelunk!" when he throws it in the water. Where Arlo made friends with sheep, horses and even our host's dog, although he'd previously treated dogs with much suspicion. Where you sit by the window every evening to see if nature is going to make a sunset even worther of a postcard than the evening before. Where I asked myself as we were leaving when we could come back again.
This place where you arrive at a little red house on a lake and think: That's just what I wanted. A place to calm down and come up for air. It was this kind of place we were looking for when we were planning a week away at the end of June. We didn't want to fly, but we also wanted to drive further than Brandenburg. Arlo should be able to enjoy himself, but so should we. And we'd never been to Småland. For Midsommar at that.
The long, light evenings were the first reason I instantly feel for Småland.
Here are some more:
// Our house
Over 400 years old, a little crooked and instantly loveable. The interior was more rustic than minimalist, but to be honest we spent most of our day outside anyway. James and I loved sitting in the vine-clad outdoors breakfast nook and Arlo hanging out with the owner's two sheep and dog. I wasn't too sure what to make of the fact that our hosts for the week would live right next door, but it took no longer than five minutes to realise that we were staying with two exceptionally lovely people, who even gifted us with homemade jam and elderflower juice when we left. The village is called Vennebjörke – if it even counts as a village, as Vennebjörke has approximately 10 houses – and the stuga, as well as many others, can be found for rent here.

// Astrid Lindgrens Värld
I'm guessing that every Swedish child knows that Astrid Lindgren was born in Vimmerby. Surely every child in Vimmerby knows, as Astrid Lindgren's Värld, a themed park that celebrates her books, is an unmissable part of the town. We weren't sure if our three-year-old would be quite old enough for it, especially because all of the performances are in Swedish. But Arlo ran around for the entire day – no lunchtime nap, no parents, not tired, not tired at all – with a grin that said this was THE BEST DAY EVER. There's so much else to do besides watch the engaging and fun performances. There's sliding and climbing and jumping from stone to stone and balancing and making trouble in Troublemaker Street. Astrid Lindgren believed that children should be allowed to play and the theme park is a complete testament to that belief. I felt like a child myself for the day and the experience was surprisingly emotional. Or perhaps not surprising at all, because her books meant so much to me when I was growing up. Arlo flicked through his first Emil book on our way home. One day I'll give him all of my old books that my mom so wisely kept for me.
// Virum Moose Park
There's a picture from our visit to Virum Moose Park that shows me kissing a moose. Let me explain: The tour guide had told us before the drive into the park that the moose were very friendly, didn't bite and would even take a potato slice straight out of your mouth. And since there's almost nothing I wouldn't do to entertain my child… Arlo was fascinated by the moose, but had no interest in stroking them even after I told him that their noses were very soft, prefering to keep a respectful distance to the animals. Which makes me think that even at three he's the brains of the operation. (Although that kissing picture is one for the ages)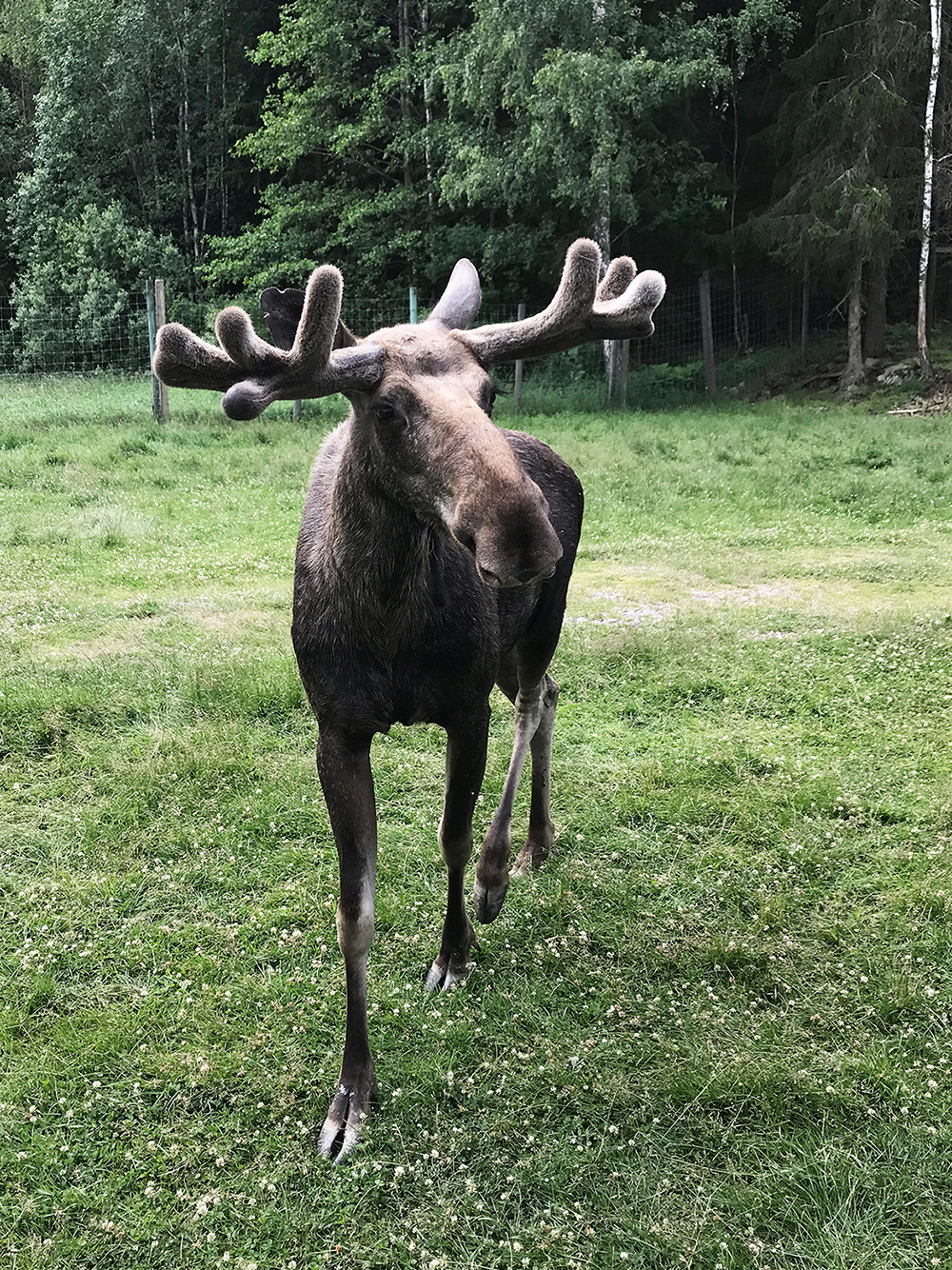 // Ingebo Hagar in Vimmerby and Systrarna Skogströms Lantcafé in Öhr
Two equally accidental and lucky discoveries: Ingebo Hagar is a ten minute drive from Vimmerby, an idyllic organic farm where you can visit the animals, go for walks and hikes, eat at the café, visit the farm shop and even spend your whole holiday here. The Lantcafé in Öhr is proof that you should always follow the locals to find the best food. Öhr was on our route back to Berlin and we wondered why so many cars were stopping at this café. We found out that this charming place serves the best kannelbullar (that weren't even made with cinnamon but with cardamom). The café has a wonderful garden and a couple of cute shops are right next door (aren't there always a couple of shops?).
// Alstermo Bruk
My friend Malin gave me this tip and without her guidance we never would've found this outlet. I say "outlet" and mean: an abandoned looking factory building, where I eventually managed to locate a doorbell, only to encouter an endearing lady who spoke only Swedish, but still understood enough of my gestures to let us in to… luggage wonderland! Alstermo Bruk is the oldest maker of fibreboard suitcases in the world and produces many other cases for anything from fishing rods to Sunday hats. It's all beautiful and because the outlet pieces have slight blemishes, they're very cheap. Bring cash! Alstermo – the town is named after the factory – is in the middle of Glasriket. Småland is known for its glass art and while I prefer design from the 50s and 60s to the newer stuff, I would recommend stopping at Transjö Hytta. Firstly, because it's off the beaten tourist tracks (yes, glas tourism exists). Secondly because the guys who run the Hytta are just cool guys. Thirdly because their glas really is art. And you can even watch demonstrations on glas blowing.

// Kalmar Castle
What a fantastic idea to turn this old castle into a palace for children, where there are things to do and see for grown-ups, but the knight tournaments, costume parties, guided children's tours at Kalmar Castle are really all about the kids. It was perfect for a rainy day. King Arlo the First made us tea and served cupcakes in one of the rooms that had been turned into a kitchen. We're working on establishing that service at home. Krusenstiernska Gården is a couple of minutes's walk from the castle and another recommendation from Malin. The garden was beautiful even in the rain. Next time we'll bring sun and a picnic. We fled from the rain to the charming Kullzénska Caféet and after taking one bite of their blueberry crumble – the crumbles are a Kullzénska speciality – I resolved to make the Swedish tradition of Fika (coffee plus cake plus relaaaaaax) a thing in Berlin. Had the weather been nice, we would've spent longer in Kalmar and explored the city some more. It looked lovely.
// The journey
Okay, the journey as such is not a reason to fall in love with Småland. But getting there in the easiest possible way is. I'm not going to lie: A ten-hour journey (from Berlin) is no joke for a three-year-old. Or his parents. I'd recommend splitting the journey in two if you can. On our way up, we spent an extra day with my grandparents, then took the ferry from Helsingør to Helsingborg. On our way down we stopped in Malmö, the nhopped on the ferry from Trelleborg to Rostock. We had a cabin and the few hours worth of sleep we got were much needed. Also, a tablet with Season 1 of Peppa Pig always helps.
The trip to Småland was organised in happy collaboration with Visit Småland and Stena Line.
The opinions and recommendations are my own.
Merken
Merken
Merken
Merken
Merken
Merken
Merken
Merken
Merken
Merken
Merken
Merken
Merken